The slewing bearing is a large bearing that can withstand the combined load and can load large axial, radial and overturning moments. The slewing bearing usually has a mounting hole, an internal gear or an external gear, a lubricating oil hole and a sealing rubber, so that the design of the main body is compact, the guiding is simple, and the maintenance is easy.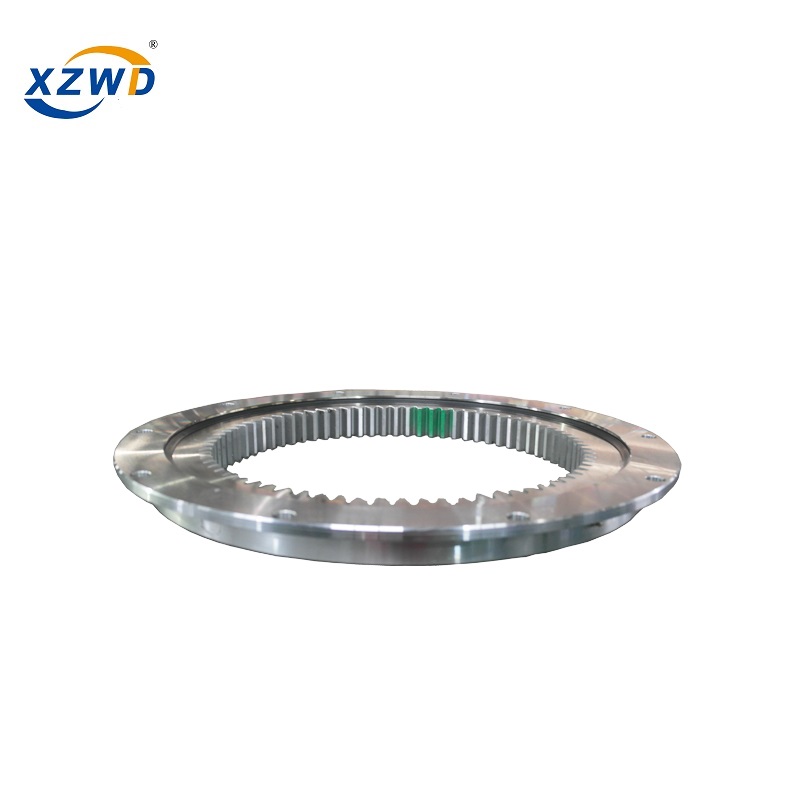 Slewing bearing has four-point contact ball bearing, external gear and internal gear type four-point contact ball bearing, double row contact ball bearing cross cylindrical roller bearing, cross roller slewing bearing and three row roller bearing, in which the four-point contact ball bearing has a high static load capacity, the cross cylindrical roller has a high dynamic load capacity, and the pre-interference of the crossed tapered roller bearing enables the bearing to have a large support rigidity and a rotation precision. The three-row cylindrical roller combined bearing leads to the bearing height due to the increase of the bearing capacity, and the various forces are respectively received by different raceways. Therefore, the bearing diameter can be greatly reduced under the same force condition, so that the main machine is more compact. A slewing bearing with high load carrying capacity.
Basic structure
The slewing drive is usually composed of a worm, slewing ring, casing, motor, and the like. Since the core components are slewing bearing, they can simultaneously withstand axial forces, radial forces, and tipping moments. There are many forms, but the structural composition is basically the same.
From left and right are (upper part):
1. Outer ring (with or without teeth) 2. Sealing band 3. Rolling body (rolling ball or roller) 4. Filling nozzle
From left and right are (lower part):
1. Blocking 2. Blocking pin 3. Inner ring (with or without teeth) 4. Isolation block or cage 5. Mounting hole (silver hole or light hole)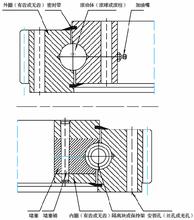 Application
Wanda Slewing bearings are widely used in the real industry and are called "machine joints". Their main applications are widely used in: truck cranes, railway cranes, port cranes, marine cranes, metallurgical cranes, container cranes, excavators. , filling machines, and CT standing wave therapy devices, nautical instruments, radar antenna mounts, missile launchers, tanks, robots, and rotating restaurants.
·Construction machinery
Slewing bearings are widely used in engineering machinery is the most widely used place for slewing bearings, such as earthmoving machinery, excavators slewing ring, disintegration machines, stacker reclaimers, graders, road rollers, powerful boring machines, rock drilling machines, roadheaders, etc. Others are:
Concrete machinery: concrete pump truck, concrete mixing and distribution boom integrated machine, belt type cloth machine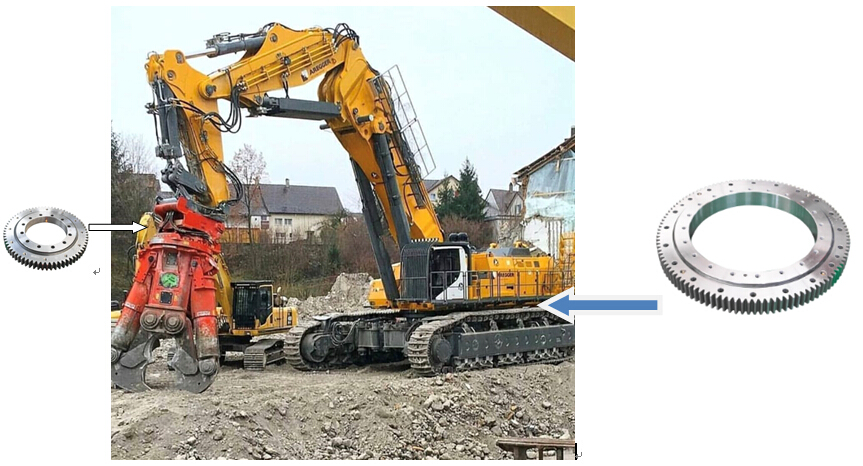 ·Feeding machinery: disc feeder, sand mixer
Hoisting machinery: wheeled cranes, crawler cranes, portal cranes, tower cranes, forklifts, cranes slewing ring, gantry cranes, ground handling machinery: impact reverse circulation drilling rig, rotary drilling ring, impact rotary drilling rig , rotary drilling rig, reverse circulation rotary drilling rig, positive circulation rotary drilling rig, long spiral engineering drilling ring, diving engineering drilling rig, static pressure pile machine, pile driver
·Engineering ship: dredger
Special vehicles: bridge inspection vehicles, fire trucks, window cleaning machines, flat beam trucks, aerial work vehicles, self-propelled aerial work platforms
Light industry machinery: beverage machinery, blow molding machine, packaging machinery, filling machine, rotary bottle unscrambler, injection molding machine
·Marine crane
Various equipment platforms
In addition to various construction machinery, the application range of rotatry rings has been gradually expanded. Equipment platforms such as port equipment, metallurgical equipment, and drilling platforms have begun to use slewing bearings instead of original bearings.
·Port equipment: port cranes, front cranes
New energy equipment: wind power equipment, solar power equipment
Metallurgical equipment: metallurgical crane, ladle turret, steel grabber, mud gun, oxygen blowing device
Amusement equipment: Ferris wheel, etc.
·Airport equipment: airport tanker
Military equipment: radar, tanks, etc.
Robot: palletizing robot, welding robot, robot
Medical equipment: gamma knife