Instructions and maintenance of slewing bearing
Views:3 Author:Site Editor Publish Time: 2019-05-06 Origin:Site
Slewing bearing is widely used in the rotating machines. The rotating parts of the machine, especially the slewing bearings, rotate at very high speeds, it will generate very high heat. If this phenomenon is not eliminated in time, which will lead to overheating of the contact ball bearing. The temperature and thermal deformation of the ball bearing and the corresponding parts are serious. This will not only affect the accuracy and machining accuracy of the machine itself, but also burn the slewing bearing.
When studying the service life of a slewing bearing, not only the fatigue life but also the performance of the slewing bearing should be considered. For example, grease lubricated slewing bearing grease life. Noise life, wear life, etc. Therefore, it is difficult to know the true cause of the ball slewing bearing damage only by investigating the damage of the slewing bearing. However, if you know the conditions of usage, the structure around the bearing to understand the situation before and after the accident, combined with bearing damage, can prevent similar events happening again.
Depending on the extent of damage, such as cracks or notches on the inner ring, outer ring, rolling element or cage must replace new slewing bearing.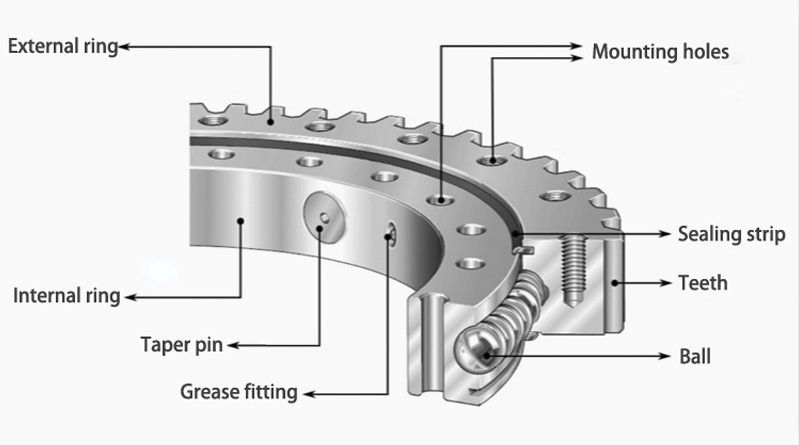 Slewing bearings should be coated with high-quality mineral oil, if use it during the rainy season and summer, especially pay attention to rust prevention. Under certain operating conditions, the service life of the slewing ring is longer than conventional calculations, especially under light load conditions. These special operating conditions are the effective separation of the rolling surfaces (raceway and rolling elements) through the lubricant film and the possible surface damage caused by contaminants. And the most important, please don't hit the slewing bearing with the hammer directly.
Xuzhou Wanda Slewing Bearing has a very excellent after-sales service team, we can provide you with detailed operation instructions and precautions. If you have any demand for slewing bearing, please just feel free to contact us.