Crossed roller slewing bearing
Views:12 Author:Site Editor Publish Time: 2020-08-01 Origin:Site
Crossed roller slewing bearing
Crossed roller slewing bearing is often used in bucket wheel, super heavy transport machinery, port machinery, mining machinery, construction machinery and other large slewing device, construction machinery has played an important role in the operation, the following details say crossed roller slewing bearing has what role.

Crossed roller slewing bearing is composed of two seat rings, close structure, light weight, high manufacturing precision, small assembly gap, high precision requirements for installation, roller 1:1 cross arrangement, can simultaneously withstand axial force overturning torque and larger radial force.
Standard crossed roller slewing bearing is divided into two parts of the outer ring or inner ring, after loading the roller and cage, is fixed together, installation can be fine-tuned through the connection bolts and fixed flange to achieve the ideal load state, so the installation is very simple operation.

Because the rollers are aligned perpendicular to each other on a 90° V-groove rolling surface by means of spacer cages, this design allows the crossed roller slewing bearings to withstand large radial, axial and moment loads in all directions.
The inner and outer ring dimensions of crossed roller slewing bearings are miniaturized to a small extent, especially the ultra-thin structure, which is close to the limit of the small size, and high rigidity, so they are most suitable for a wide range of applications such as joints and rotating parts of industrial robots, rotary tables of machining centers, rotary sections of robots, precision rotary tables, medical equipment, measuring instruments, and IC manufacturing devices.

On the basis of the basic crossed roller slewing bearings, many structural differences in the crossed roller slewing bearings are derived, so that they can be used for different requirements of the occasion. From the general category, it can be divided into: basic crossed roller slewing bearings, high rigidity crossed roller slewing bearings, ultra-thin crossed roller slewing bearings;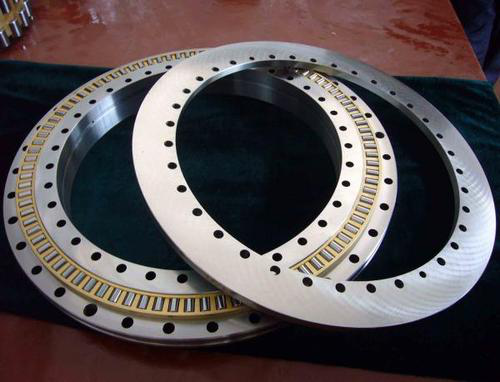 Key advantages of crossed roller slewing bearings:
First of all, the structure of crossed roller spherical plain bearings is relatively simple, through a row of cylindrical rolling bodies arranged in a single raceway cross each other, you can get a considerable axial and radial load slewing bearing capacity and tilting moment. In addition, crossed roller slewing bearings will not occur roller side contact phenomenon or locking phenomenon, at the same time, because of the standard crossed roller slewing bearings inner and outer ring is divided structure, clearance can be adjusted, even if the pre-pressure is applied, can also obtain high-precision rotary movement.