slewing bearing for car parking system
Views:0 Author:Site Editor Publish Time: 2019-05-14 Origin:Site
1. Working principle of car parking system
A car parking system is a mechanical device that multiplies parking capacity inside a parking lot. Parking systems are generally powered by electric motors or hydraulic pumps that move vehicles into a storage position.
Car parking systems may be traditional or automated. Automatic multi-storey automated car park systems are less expensive per parking slot, since they tend to require less building volume and less ground area than a conventional facility with the same capacity. In the long term, automated car parking systems are likely to be more cost effective than traditional parking garages. Both automated car parking systems and automated parking garage systems reduce exhaust gas — cars do not drive around in search of parking spaces.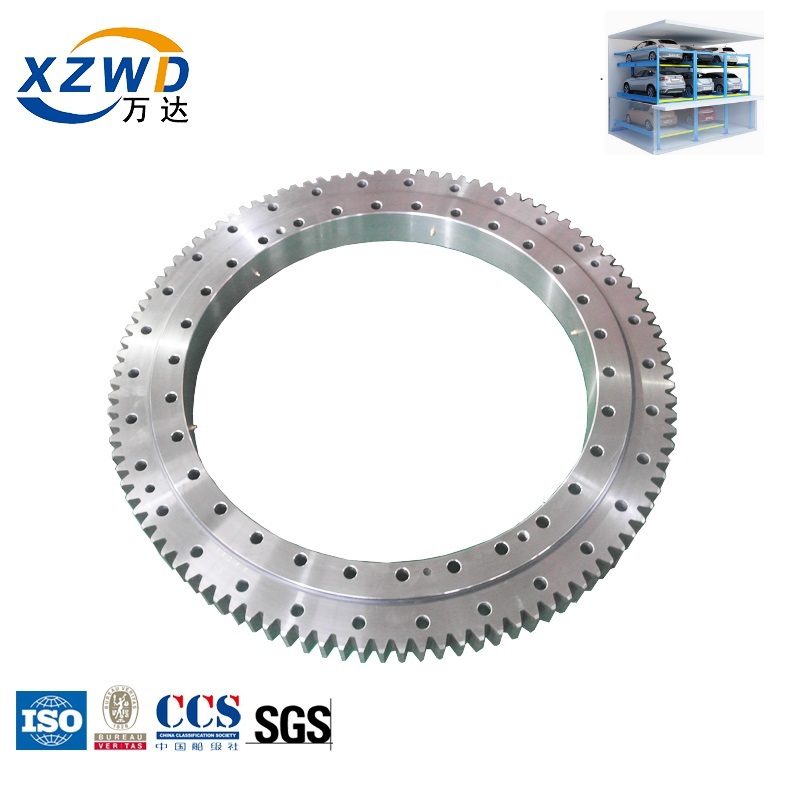 2. Features of car parking system slewing bearing
Single row Four point contact ball slewing bearing is radial single-row angular contact ball bearings designed to support axial loads acting in both directions.It can withstand up to a fraction of the radial load of the axial load.
The contact angle of the four point contact ball slewing bearing designed by QJ is 35° or 45°. The inner ring is a flat inner ring. This allows a larger number of balls to be placed in the bearing, which gives the bearing a higher load bearing capacity.
The slewing bearing with external gear is widely used in car parking system with outer diameter about 1-2 meter.
3. Experience of Xuzhou Wanda Slewing bearing in car parking system
We, Xuzhou Wanda Slewing bearing has rich experience in the design of car parking slewing bearing. We are able to design the bearing according to customer's requirement and load conditions.