slewing ring soft zone
Views:319 Author:Tina Chen Publish Time: 2018-01-23 Origin:Site
The raceway tracks of a slewing ring are hardened,the process of hardening these has a beginning an a end as the hardening may not overlap there is a small gap where there is no hardening.
That is the so called soft zone of the slewing ring. This position is marked on the outside of every Light Type (WD-06) without Gear slewing bearing.Make sure, if possible, that this spot is positioned so that it will stay out of the maximum load while working with the Light Type(WD-06) Internal Gear Slewing Bearing. The soft belt should be set at non loaded zone or non frequently loaded zone.That way the longest possible life expectation is ensured.

Slewing Bearing ball track quencher soft zone(lies between the exterior mark"S" and the jam.) is in the non-loading zone or non-regularity loading zone.Upper and lower rolling ring "s" soft zone should stagger for 180 degree. The soft zones of crane and excavator machinery should be in the place which forms a 90 degree angle with the arm support direction( the maximum load direction).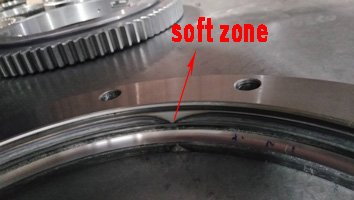 It is a necessary consequence to have the soft zone of the slewing ring during its production process, the soft zone occurs during surface quenching technique. The soft zone is the disadvantage of the use of the slewing bearing, if the the soft zone is in the correct installation position on the main machine, the effect of this disadvantage of the slewing ring will be decreased, so the installation position on the main machine is at the non-loaded zone on the slewing bearing in principle, or at light –loaded zone or at the non-usual loaded zone.