Slewing drive-the "heart" to ensure the accurate pursuit of the solar power station
Views:13 Author:Site Editor Publish Time: 2020-01-11 Origin:Site
For CSP stations, only the characteristics of DNI (normal direct radiation) can be used to make the tracking system extremely important. Its accuracy and durability will have a huge impact on the system's light collection and heat collection efficiency, and ultimately affect the power generation of the station,slewing drive quality and accurency is much important for tracking.

The quality of tracking technology mainly depends on the quality of the control system and slewing driving system. As the most commonly used slewing equipment in the tracking system of CSP stations, especially tower CSP stations, slewing drive can accurately and reliably drive the tracking system to In real-time tracking, its rotation accuracy can directly affect the reflection slewing drive accuracy of the mirror, and its reliability is related to whether the entire mirror field can operate normally. In addition, the rotary reducer also has important functions such as self-locking, anti-wind and anti-rolling, which can be described as the "heart" to ensure the healthy operation of the tracking system.
How to select suitable slewing drive for your tracking system
The first is the selection of materials. We must pay attention to the material and life of the components and materials required for production, including the base, slewing bearing, drive worm, DC motor adjustment block and end cover, paint, etc., from the perspective of meeting the full life cycle of CSP stations consider.
The second is the production process. It is necessary to control the processing of the ring and worm. Only the slewing ring and worm can be processed with high precision slewing drive tracking, and the assembly can be rotated more accurately. In addition, the control of the assembly consistency requires the use of better equipment for processing. You must control the cpk value (abbreviation of Process Capability index, which is an indicator used by modern enterprises to indicate process capability, and is a convenient way to indicate the level of the process, and its essential role is to reflect the level of process qualification)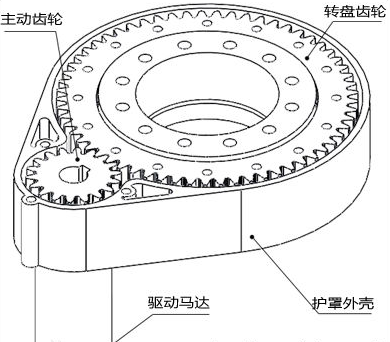 Finally, inspection and testing of finished products. Each product must be verified by the overturning torque test and bearing torque test, and it can be shipped after the verification is passed, which can effectively prevent product quality accidents.
If you have any question, please feel free contact Wanda slewing bearing company!