The development of Chinese slewing bearing enterprises and the sales situation at home and abroad
Views:17 Author:Mickey Sun Publish Time: 2018-03-08 Origin:Site
China slewing bearing has been developing from a poor situation to sprung up across the country after more than 30 years development. Through the introduction of German Rothe Erde designing and manufacturing technology in 1985, Xuzhou slewing bearing factory was established, and the large bearing production standard was simultaneously.
With the rapid development of Chinese engineering machinery, a large number of slewing bearing processing factories have emerged.Up to now, there are 128 professional slewing bearing enterprises in China.Most are concentrated in Jiangsu, Anhui and Shandong provinces.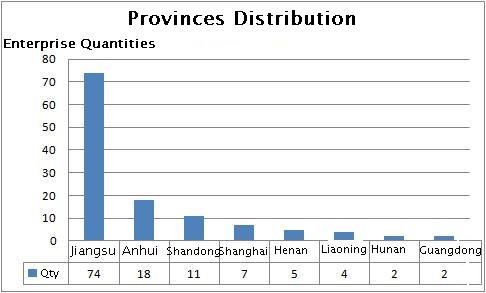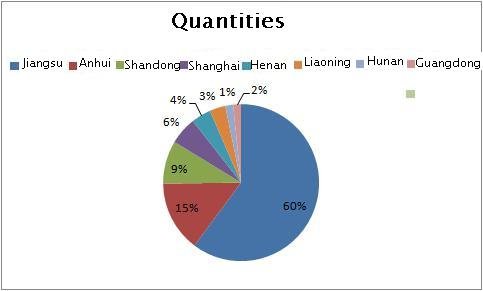 From the table, there are 74 slewing bearing enterprises in Jiangsu, 18 in Anhui and 11 in Shandong. Among them, Jiangsu occupies 60 percent of the national rotary support manufacturers. The number is far ahead. Let's look at another set of charts.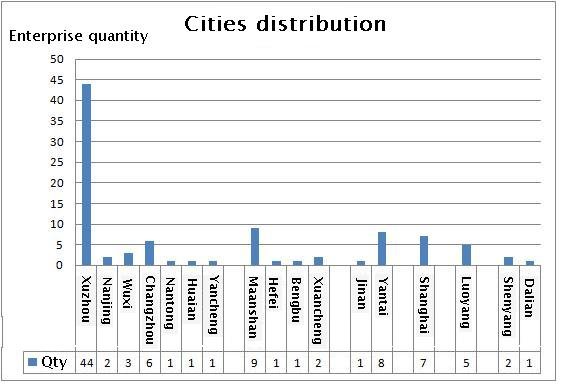 We can see from the figure, Xuzhou takes the first place as owning 44 slewing bearing companies, it is also because slewing bearing technology development to promote the development of large engineering machinery in China.
Before,China as the slewing bearing importer from other countries is not only the price is expensive but also the quantity is scarce, so our industrial development is seriously hindered.
Our company, Xuzhou Wanda slewing bearing co.,ltd is located in Xuzhou, Jiangsu province, our annual output is more than $20,000,000, and 60% products are exported to more than 45 countries. The slewing bearing importers from those countries have given us highly remark and keep long time business relationship! with us!