slewing ring bearings for mining shovels
Views:23 Author:Hebe Publish Time: 2018-12-12 Origin:Site
Slewing bearing for mining shovels solutions in excavators, bucket wheel excavators and stacker / reclaimers are vital for the performance and reliability of the machines. slewing bearing solutions are available in different designs to meet the requirements of mini excavators as well as giant shovels.
Slewing ring bearing Due to their high carrying capacity and high resistance to overturning moments, they improve machinery reliability, operator comfort and working accuracy and, consequently, increase the productivity of the excavator.
The result? Higher reliability and fewer breakdowns.
With outer diameters of up to 282" (7.2 m), slewing bearings are ideal for Mining shovels excavators, stacker reclaimers, and other large mining machinery.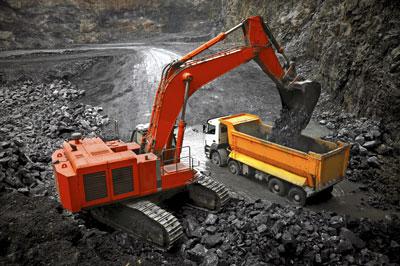 Slewing bearings are large-sized bearings specifically designed to accommodate oscillating movements. They are comprised of an inner ring and an outer ring, one of which usually incorporates a gear. The bearing raceways, in conjunction with the rolling elements (and cages or spacers), are designed to accommodate loads, acting singly or in combination, and in any direction.
Integral synthetic rubber seals effectively protect the bearing from the ingress of foreign matter, as well as prevent the escape of grease. Compared to the traditional pivot arrangement, slewing bearings have many design and functional advantages.
The assembly is much more compact and its hollow centre permits the installation of driving mechanisms and the passage of various control devices; the superstructures of the rotating part are more easily accessible. The small difference in height between the geared ring and un-geared ring reduces the overhang of the driving pinion.
Heavy loads. Abrasive dust and dirt. Extreme temperatures and more. These conditions make it difficult, even dangerous for mines and cement plants to maintain their machinery. Worker injuries and unplanned downtime are a constant risk.
Additionally, high cost and stringent regulations are forcing reductions in energy consumption, even as global demand for metal ores, cement and coal is increasing.
In punishing operating environments like mining, heavy equipment must take a beating and come back for more. slewing bearings and split-to-the-shaft roller bearings have been helping mining owner/operators minimize downtime and maximize productivity for decades.
Remanufactures and provides new replacements for any slewing bearing, with fast delivery and as-new or better performance. Mine operators have found they can save up to $250,000 compared to an OEM replacement bearing.
The bearing remanufacturing program returns worn bearings to service in like-new condition.
Inventory of replacement slewing bearings includes new replacement bearings for popular hydraulic shovel and excavator makes and models.
Split roller bearing is a liberating element in the design of new mining machinery, and a perfect drop-in solution where solid bearing replacement would be too time- and labor-intensive. Compact split bearings provide long life and ease of maintenance, withstanding the most demanding conditions. Bearings are available in a wide range of sizes (1-3/16" to 60") and a variety of series (from light duty to extra-heavy duty), for a range of mining applications including material handling; hauling and winding; stockpile and surgepile management; and screening, sizing, and washing. Seals provide excellent flexibility in difficult mining environments with full integrity and minimal foreign material ingress.
Slewing bearing provides mining technology products for open pit and underground mine applications. Technologies that enable fleet management, drilling & blasting, loading, hauling, dozing, truck assignment, material tracking and operator management. an integrated mine operations and mobile equipment management system that enables customers to improve productivity, enhance safety and better manage their mining operations.