Light slewing bearing capacity
Views:15 Author:Mickey Sun Publish Time: 2018-05-09 Origin:Site
Light slewing bearing is the solution for applications where a large diameter and lighter weight are key. WD-23 series slewing rings have a flanged cross-section on one or both rings that reduces weight and provides the equipment designer with flexibility, accommodating various configurations of adjacent mounting structures and bolting arrangements.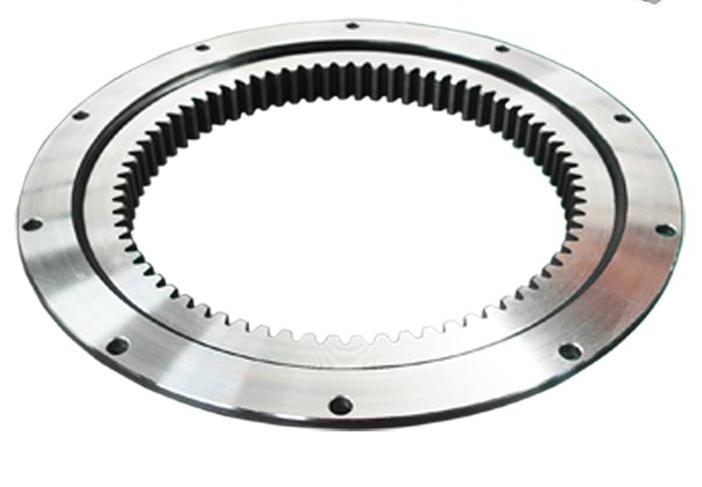 Design features:
The internal configuration provides four points of contact with the balls, enabling the bearing to simultaneously carry radial, axial, and moment loads. The use of spacer balls alternated with load balls allows for lower rotational torque and superior performance in applications involving oscillatory movement. Integral face riding bearing seals are provided to assist in the exclusion of contaminants.
Lightweight Bearings are perfect for applications where an extra light bearing is required. Within their basic load ratings, these extra light bearings are capable of radial, thrust or combined loads and are available in open, sealed or shielded configurations.
Wanda slewing ring bearing solutions have been used successfully in a variety of light to medium duty applications including:
Applications:
Small cranes, booms, and lifts
Industrial positioners and rotary tables
Chute swivels
Stretch wrapping machines
Bottle filling machines
Conveyors and related material handling equipment
Rotating displays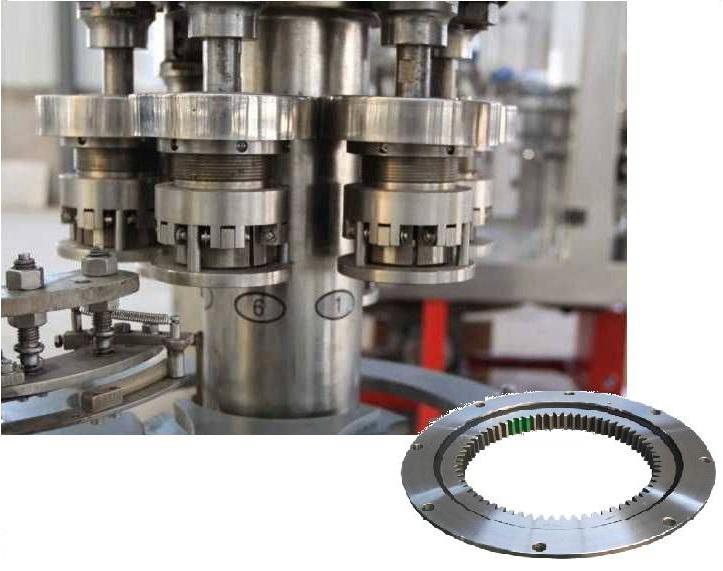 Light Slewing bearing Failure Analysis:
Light Slewing bearings are special types of bearings which are generally used in some machinery. The way they are mounted on the structures, working nature which is generally "static", higher load carrying capacity, and larger number of rolling elements.
Light slewing bearings are generally selected on the basis of the static load, which is calculated using the forces for axial and radial loads coming on it as well as the tilting moment. For correct selection of the slew bearing, certain parameters such as speed, load, and operating temperature are required. There are certain assumptions which are to be considered:
1. The bearing is made from high quality material and is free from manufacturing defects.
2. Bearing is selected as per the load calculations.
3. Installation of the bearing is proper.
4. Grease used is of good quality and it reaches to every corner of the bearing.
5. Bearing is sealed using high quality seal.
6. Operating temperature of the bearing is within range.
7. Proper care for maintenance is ensured.
The conditions mentioned above, if fulfilled, ensure maximum bearing life.
When the slew bearing is rotating, the rolling elements are rolling in cyclic pattern over the inner raceways. Since the rotational speed is very low (mostly below one RPM), the phenomenon of gradual pitting and chipping takes place. Pitting is caused by the heavy loads on roller elements. The durability of the slew bearings who have undergone improper induction heat treatment are more prone to failure in early stages of the operating cycle. If this occurs, the bearing must be replaced or repaired immediately, as by not doing so, pitting will be more and that might result into jamming of rolling elements inside the bearing. This may also cause the ring to crack in extreme conditions, if it is not taken care of.The causes for such failures is mainly due to the excessive over loading of the bearing.
As above Slewing bearing Failure Analysis, when you make the selection for light slewing bearing, please take care of the slewing bearing loading capacity seriously.