slewing ring bearing installation
Views:45 Author:ethan zhang Publish Time: 2018-08-02 Origin:Site
According to its application, installation type of slewing bearing can be divided into seat installation, suspension installation and vertical installation.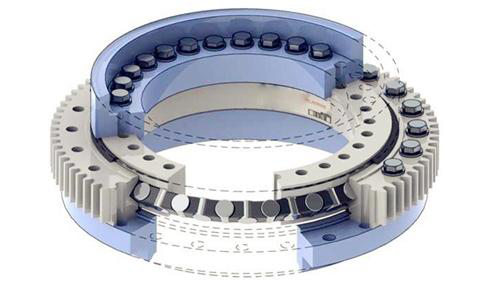 Below are the procedures of slewing ring bearing installation
Erection support confirmation
Be sure that the erection support structure accords with the technical requirements.
Check whether there is any metal chip, weld grain, rust stain, paint or other impurities, which all should be removed.
Centering

When the load is mainly radial, and in particular, when the bearing is installed vertically, forced centering is necessary. Using structural bonding type LOCTITE 586 is the effective way to limit relative displacement between the slewing bearing and its support.
Positioning
The quenching soft belt mark (external mark "S" or at stopped hole) must be set at a non-loaded zone or a non-frequently-loaded zone, i.e. a location which forms a 90-degree angle with the main loaded axle or the loaded arm.
Fit check
After the slewing bearing is hoisted into place, the flatness of the bonded plane is checked with a filler gauge. If there is any gap, machining should be done again, or the gap should be filled plastic or partial gasket, in order to prevent the bearing from distorting after the bolt is tightened. Distortion will affect the performance and service life of the slewing bearing.
Gear backlash check
Before the mounting bolt is tightened, gear backlash should be adjusted according to the highest point of gear pitch circle radial run-out (three teeth marked with green paint), and after the bolt is tightened, gear backlash check should be done all over the gear ring.
Xuzhou Wanda Slewing Bearing Co., Ltd. uses high quality raw material and components; during production, we apply advanced technology and equipment to ensure the precision, roughness, clearance and sealing.