What is SE slew drive?
Views:17 Author:Site Editor Publish Time: 2020-12-22 Origin:Site
Slewing drive is a gearbox that can safely bear radial and axial loads and transmit rotational torque. The rotation can be a single axis or multiple axes. The slew drive is made by manufacturing gears, bearings, seals, housings, motors and other auxiliary components and assembling them into the final gearbox. Due to its wide range of uses, slew drives have various models, performance ranges and installation characteristics. SE slew drive is one of the series of slew drive.

This passage is going to talk about the followings of what is SE slew drive:
(1) description of SE slew drive
(2) features of SE slew drive
(3) applications of SE slew drive
(1) Description of SE slew drive
Our SE series slewing drives are very suitable for situations that require load holding and rotation torque from the same gearbox, and are suitable for many industries. Our SE drives have a closed enclosure with lip seals and are designed for mining equipment, aerial lifts, cranes, excavator derricks, positioners, steering systems and utilities. SE series features low-cost closed design with lip seal, slewing ring assembly, 360-degree rotation, self-locking gear set, some models provide dual worm gear design to increase torque capacity, standard options for metric or inch mounting threads and provide a variety of input options. You can buy with or without a motor. Generally speaking, the SE series slew drive can meet the application requirements in the field or indoors with high humidity.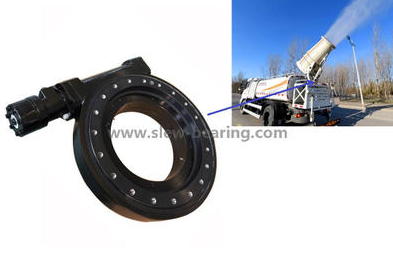 (2) Features of SE slew drive
The closed design makes the SE series resistant to wind, rain and other harsh environments. Here are some ideal solutions to match the relative rotation of two objects application: SE series slew drives can be used in indoor and outdoor applications, including but not limited to truck cranes, satellite antennas, solar trackers, wind generators, various utility equipment, and car lifts.
(3) Application of SE slew drive
SE slew drive adopts multi-tooth contact hourglass worm structure design, which has good impact resistance and is suitable for light load, low speed and precise applications. The closed design protects the SE closed slewing drive from wind, rain and other harsh environments, making the SE slewing drive an ideal solution to match the relative rotation of two objects. It has also been used in many indoor and outdoor applications. The main applications of SE slewing bearings are solar tracking systems, rotating platforms, small wind power generation systems, satellites, and automatic assembly lines.
Our SE is driven by hourglass worm technology to achieve the maximum gear torque and the most stable rotation. Typical applications of slew drives include solar energy, truck cranes, manual lifts and utility equipment, hydraulic accessories, oil tool equipment, ship cranes, tire loaders, excavator derricks and car lifts, but slew drives are also used in many applications that require load retention Application neutralization capability. We provide different slew drive models with different torque load capacity. The standard slew drive is equipped with an open housing and a single self-locking hourglass worm shaft. Once the power input returns to neutral, the worm shaft will lock the load in place without any external braking device.
The slew drive can be equipped with worm gears, spur gears, and bevel gears. For the internal slewing bearing, it can be a single-row ball slewing bearing or a double-row ball slewing bearing. Servers with double rows may bear more load. You can choose according to your application.
We can provide various sizes of SE slew drives. With different diameter ranges and weight ranges, the slew drive can be designed and manufactured according to customer needs. Believe that our high quality, competitive price, timely delivery and best service will get your favor.
We hope this article has helped you understand more about SE slew drive and its advantages. If you need any slew drives or relevant products, please contact us.