Simplify designs with slewing drive
Views:2 Author:Site Editor Publish Time: 2020-09-10 Origin:Site
The slewing drive is a gear box with the ability to withstand radial and axial loads and transfer high rotating torque. these mechanisms produce rotational motion along a single axis or multiple combination axes. Slewing drives are designed to handle radial or axial loads using high rotating torque.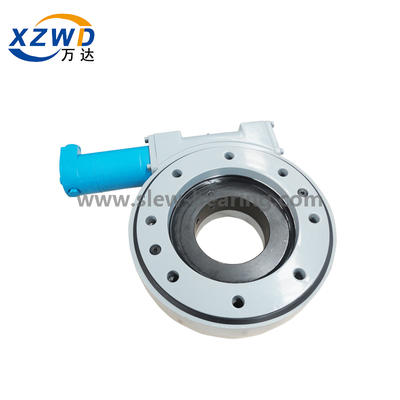 The slewing drive works well in applications requiring high torque at low speed. zero clearance and smooth component operation make them provide excellent accuracy in positioning accuracy and rotating motion. These machines are well suited to equipment such as cranes, satellites, radar trackers, oil tools, etc. and other requirements for indomitable strength as well as flawless precision using rotary technology to ensure safety and accuracy. they are made of phosphorous bronze and steel or materials with associated wear and deformation characteristics. The slewing drive has protective cover against environmental factors including dust and water.
This article contains the following:
· Design Category of Slewing Drive
· How does the slewing drive work
· Design Features of Slewing Drive
Design Category of Slewing Drive
The slewing drive has numerous dimensions, capacity and installation functions, and can meet a variety of functions. The standard model has a two-axis drive rotating at the same time, or two drives located on the same axis. the dual drive setting allows two worm threads to drive the ring gear along one shaft.
Emerging technologies have led to an increasing popularity of hourglass designs in slewing drive manufacturing. The new design provides excellent performance by simultaneously using multiple gear teeth. Slewing drives designed to handle heavier loads use double row rotary bearings instead of single row bearings.
Slewing drives are dedicated to solar tracking systems and can help generate higher solar output. this is achieved by promoting device mobility (with emphasis on the sun). Customized solutions are tailored for applications that require the use of oversized load capacity with dynamic and static torque.
How does the slewing drive work
The slewing drive depends on the worm gear technology, and the horizontally mounted worm can be used as the drive of the gear. When the horizontal screw rotates, it will rotate the gear around the axis perpendicular to the axis of the screw. as a result, the gear speed decreases while the torque increases proportionally. the number of worm threads and gear teeth determines the applicable speed ratio.
The hourglass mechanism is similar to the traditional worm gear technology and improves the gear function. the hourglass worm profile no longer relies on single point contact as in the traditional model, but allows up to 11 gear teeth to contact the worm shaft. The ability to engage multiple teeth at a time makes the hourglass slewing drive more durable, robust and efficient.
Design Features of Slewing Drive
The slewing drive provides a variety of functions, including:
Single row or double volleyball slewing drive

hardened and ground worm gear (extended service life)

Self-locking capability

Single lever drive

Double worm drive

Hydraulic motor

Electric motor

Pneumatic motor

Modular design

Encoder

Open the case

Closed case

Brake

Hourglass Design

Gearbox deceleration ratio

Horizontal installation

Vertical installation

Horizontal/vertical installation combination